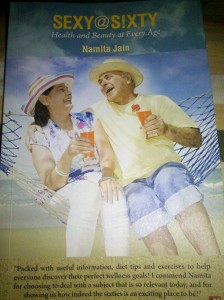 The age of 60 is a milestone in many ways. One bids adieu to their professional life in order to witness, relish and enjoy things they have missed for years. In other words you can live your life to the fullest from the age of 60. On the flipside, with the ageing process knocking at the door, it is also the age when a lot of people grapples with what is referred as 'old age' health issues. Sexy@Sixty by Namita Jain is a book which will assist people attaining at the age of 60 to still live an exciting, active and beautiful life.
In this age of competition and pollution, we tend to forget to take care of our body as well as mind. Sexy@Sixty with the several health and wellness tips and advises is an honest attempt to make your life more meaningful. The main aim of the book is to inform you about the common health related issues and diseases, the severity of which can be reduced with a little bit of lifestyle and dietary changes. It starts with the chapter "Couch Potatoes". It acts as an alarm for you to leave your sedentary lifestyle and make yourself more active for the betterment of your body and soul. The second chapter "Battle Against the Bulge" deals with the issue of putting on weight, the reasons behind being overweight and how to free yourself from the ugly bulges by undertaking a right diet and correct exercises. A general overview of various common ailments which might mar your well being like hypertension, cholesterol, diabetes, osteoporosis, menopause and arthritis are also discussed in the book. Along with the symptoms and the risks associated with the diseases, the book also talks about the various ways of dealing with them.
Though the book is titled Sexy@Sixty, it's appeal and relevance can be said to be universal. The main aim of the book is to motivate you to slowly but surely follow a healthy lifestyle. Health and beauty is not only meant for the younger generation. However, if you start taking care of yourself from a young age it will help in keeping a lot of diseases at bay.
The main aim of the book is to inform you about the pitfalls of the unhealthy lifestyle and junk diets that have become an integral part of our life. The author has put forth a number of real life cases in front of you in order to fathom the significant changes that you can enjoy with a healthy and balanced lifestyle and diet. Physical fitness and mental wellbeing work in tandem to offer you a noteworthy living. It becomes almost impossible to achieve your physical goals if you are not at peace with yourself. Burning off your stress is, hence, equally important as burning off your calories and fats. The author also offered certain techniques so as to reduce stress and relax and create an aura of positivism around you.
What I found amazing about the book is that the approaches mentioned for attaining a healthier lifestyle are quite simple and you do not need to shell out a lot of money or time to achieve them. The calorie chart guide, the basic exercise postures and yoga postures presented in the book are immensely useful. It also talks about the various cosmetic surgeries and procedures like Liposuction, Botox, Tummy Tuck and many more which are a rage in the current scenario.
Staying fit and healthy is no mean task and involves a lot of committed effort. Namita Jain in her book Sexy@Sixty has repeatedly harped on the importance of following a regular exercise regime and proper diet. The point which I loved most about the book is that it focuses on changing yourself gradually by setting realistic targets and working towards them with sincerity. There are no shortcuts to good health and well being and it is only due diligence which can help you reach your target. Namita Jain, a wellness specialist for 25 years has offered us a handy and one-stop version of health and wellness related topics which we read in the newspapers every other day. After attaining the age of 60 when daily activities reduce considerably, this book will offer you tips and advices and inspire you to stay active, positive and fit.
This review is a part of the Book Reviews Program at  BlogAdda.com. Participate now to get free books!