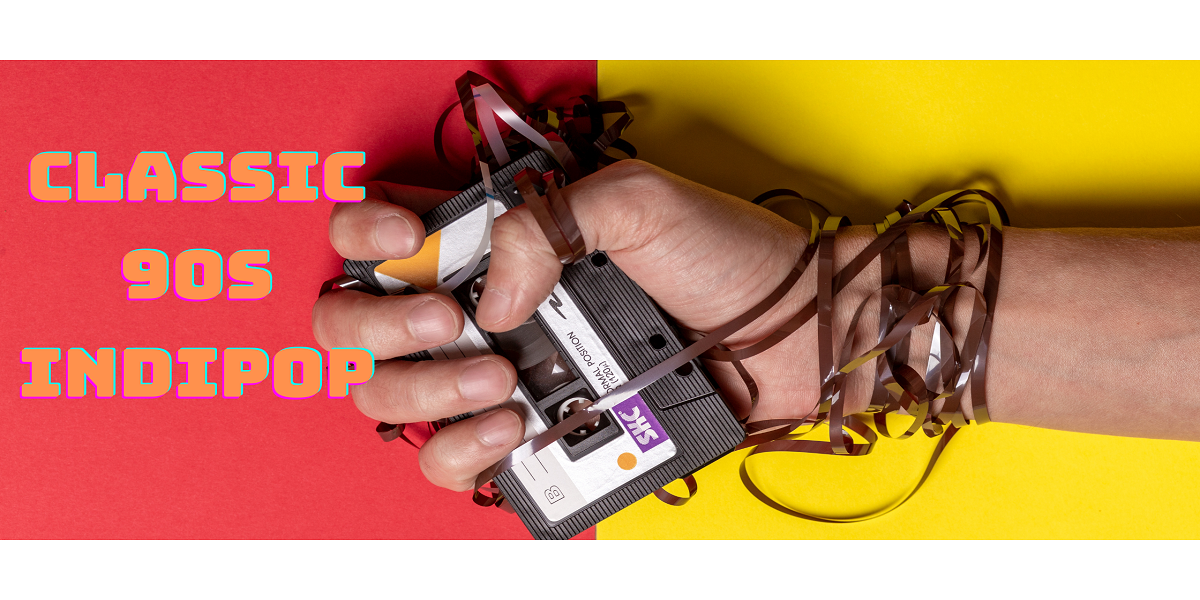 This is my second post for My Friend Alexa 2020 campaign. I started with the campaign with a clean slate sans any specific theme. However, as I started ideating for my posts, I felt NOSTALGIA should have been my theme, as I love reliving my teenage and early adulthood days which shaped me as the person I am today! The last decade of the last century and the first few years of the 21st century witnessed the flourishing Indipop industry in the Indian music industry.
Indipop of the 90s is one of the numerous things which left an indelible impact on my mind! With limited TV watching hours, I used to save my time for what I used to consider best for me(strictly for entertainment purpose)! The 1990s were the glorious years for Indipop. Before that Bollywood songs and some healthy doses of regional music were the staple diet for most Indian music lovers.
Come the 1990s! Indipop became the trend, the 'in' thing! Children who started following Indipop became 'hip' instantly 😜 This parallel industry to Hindi film music gave recognition to a plethora of singers, composers and even models. The music ranged from cheesy love ballads to fusions to upbeat discos and also a few tacky numbers. Along with the songs, the music videos became a craze. Though most of the videos were about love and romance, there were others which took a slightly different path and took artistry to a whole different levels with their stories, direction and cinematography! Here in this post I am going to put forth only a few of the many Indipop music videos which I feel will remain evergreen forever.
Paree Hoon Main: This iconic song by Suneeta Rao became an instant hit due to the mesmerizing tune, the lyrical fluidity as well as the 'very different' video. This song which released in 1991 actually opened the door for the Indipop generation. The song gave the impression of a girl considering herself as a princess. However, in actuality the video focuses on childhood sexual abuse in a very subtle way. Watch it to see why it was way ahead of its time.
Gori Tere Aankhen: This romantic ballad with a melancholic tune was one of my favorites. It talks about a widow trying to come to terms with the death of her husband. The muted colors of the video, the fabulous cinematography along with the incredible voices of Lucky Ali and Kavita Krisnamoorthy will resonate with you and make you feel the pain of death of a loved one. Watch it, it will haunt you but in a good way.
Tere Ishq Main: What can be said about this song? The less said, the better as no words can justify the beauty of the song. This Sufi song song is the fruition of the deadly collaboration of Gulzar, Rekha Bharadwaj and Vishal Bharadwaj. Leave all your sorrows, your anguishes, your despair behind you – get enlightened and move ahead with your life. Start loving your life! Do not miss this song as it will take you to a journey of the unknown.
Pyar Ke Pal: Children who grew up during the 90s still sing this song whenever there is the chance of revisiting that era of simplicity. This romantic ballad by KK actually talks about how we are going to fondly remember our past. The sepia colored music video is about lost and found romance. If you want to feel good after a long and tedious day, it is safe to go to YT and watch this video and go on a nostalgia trip! Trivia: the video features Abhay Deol long time before he became a household name with movies like Socha na Tha and DevD.
Seenkho Na: Shubha Mudgal came to prominence with her peppy and feel good song Aab Ke Sawaan. But for me Seenkho Na holds a special place, maybe because I am a Bengali. The music video which portrays the pangs of a newly wed lovelorn wife was directed aesthetically by none other than Pradeep Sarkar. Shot in an age old Bengali 'bonedi' house with a joint family, the video speaks about understanding the language of the girl's eyes and her silence as they tell you more than words ever can.
Here are just 5 of the songs which can brighten my day whenever I listen to them. Their melody, their enchanting videos and their simplicity take me back to the my uncomplicated bygone days. In my next post I'll try to post another 5 of them.
"I am taking my blog to the next level with Blogchatter's My Friend Alexa 2020″ campaign.